SuperFish Pond Eco Plus E 10,000 - 68w
Product Description
Details
Electronic filter pump for koi and fish ponds. The newengine offers very good performance and high head at a very low power consumption (approx. 5 watt per 1,000 l/h). A pond pump that truly deserves a "green label"!
Including a 2 year pick-up & replace service for maximum security.
High water flow with extremely low energy consumption.
Suitable for both submerged and dry mounted use.
Run Dry Protection - when the pumps runs dry the pump will stop automatically.
Multi-step hose connection.
DCS ceramic drive and gear wheels for minimum wear.
Vortex blades transport coarse dirt particles upto 6mm.
2 year warranty and TUV approval.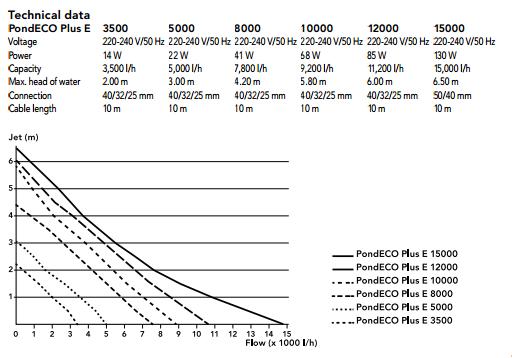 Reviews